Welcome to the Biggest Dog Show on Earth
Tomorrow the 137th Annual Westminster Kennel Club Dog Show begins in New York City until Tuesday, February 12. The Westminster show is one of the largest and most impressive dog shows in the world and attracts thousands of dogs, owners and dog lovers who either take part or just go along for the fun and frolics.
Below, The Dog Express gives you the low down on one of the most famous dog shows and lets you in on what to expect, the inside news, stories from around NYC and much more.
Dogs at the Westminster Dog Show
With over 2700 dogs in attendance at this years show, representing entries in the 187 different breed categories, 2013 looks set to be the biggest show so far and promises participants and spectators alike a world class performance from our four legged friends. The most entries into a breed category goes to the Golden Retrievers, followed closely by the Labrador Retrievers and Rhodesian Ridgebacks.
We're not going to list all of the breeds involved in this years show, as the article length would be huge, however below are the breed categories you can expect to see:-
Working Breed

Toy Breed

Hound Breed

Sporting Breed

Terrier Breed

Herding Breed

Non-Sporting Breed
7 dogs will win in each of the above groups and then go on to compete for the coveted best in show.
Westminster Dog Show Venues
2013 is the first year where the dog show will be split into 2 different venues. The ever present Madison Square Garden in NYC will still play home to the group and best in show finals as well as the junior showmanship finals. The worlds most famous venue has always been the venue used for the Westminster Dog Show and the only reason for the venue split this year is to increase the size of venue needed for the benching and breed judging sections.
The preliminary junior showmanship rounds, breed judging and benching will this year be taking place during the day at Piers 92/94, located at West 55th Street and 12th Avenue (West Side Highway). The addition of the Piers as a venue for this years dogs show provides 200,000 square feet of column-free exhibition space, which is ideal for housing the breed judging and other show sections and has allowed the dog show to increase its entry limit to 3200 dogs.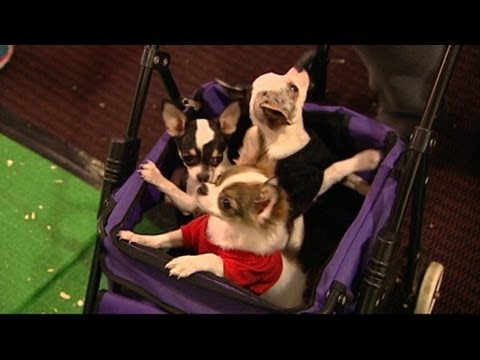 Show Judges
The coveted 'Best in Show Judge' this year goes to Michael Dougherty. He is from Escondido in California and has a vast history of working as a breed handler and dog show person. Michael retired from professional handling in 1985 to focus on being a judge and has a coveted career in this arena, judging at most of the US dog shows.
Michael will be joined by 42 other panel judges who come from 18 US states and 3 of the judges who are from outside of the US.


Dog Friendly Hotels
As you would expect from one of the worlds biggest dog shows, most of the owners are going to need a place to stay…with their pet pooches. So it is no wonder that many hotels around NYC have opened their doors to guests of the four legged variety.
Hotel Pennsylvania – NYC – 401 Seventh Ave - This hotel welcomes dogs and their owners and has a special page and rates has been named as the host hotel for the Westminster Dog Show (they are even operating an exclusive shuttle bus service to and from the venues.) Owners and dogs alike will be treated to exclusives throughout the dog show dates such as complimentary publications including Cesar's Way, Showsight Magazine, and Modern Dog and The exclusive 1st In-Line, Inc. sponsored Green Room Salon, Spa and Canine Gym; the largest in-door doggie Spa in all of New York.
The Affinia Manhattan – NYC – 371 Seventh Ave – Another favourite with dog show goers, this hotel offers exclusive dog rates. The hotel has just undergone a refurbishment making it even more exclusive and impressive and it now offers 618 new suites and guest rooms.  The Affinia even boats a Chief Comfort Officer who's sole job and responsibility is the comfort of both you and your dog!
The New Yorker – NYC – 481 Eighth Ave – The world famous New Yorker is a Ramada Worldwide hotel and is renowned for it class and perfect location. Another hotel that offer exclusive rates for Westminster Dog Show members and is happy to accept their four legged friends. The Art Deco style rooms offer the usual free Wi-Fi and flat screen TV's and the hotel has its own exclusive fitness centre should you have time in-between shows.
Greatest Show On Earth
Whether you are showing your dog, judging a group, going as a spectator or just watching at home on TV, this years Westminster Kennel Club Dog Show looks set to be the best ever and has something for all dog lovers. You will get to see 2 new breeds who have only just been recognised by the American Kennel Club (Russell Terrier and the Treeing Walker Coonhound) and a host of dog related vendors showing their products and services, some of who we have listed below:-
Are you attending the dog show?….let us know in the comments below.